How many square feet of material do I need for my flooring project?
Due to the cuts and waste that occurs during an installation, you normally need 10% more of the material than the actual square footage to be covered. For example, if the floor area to be covered by vinyl planks is 1,000 sqft. The quantity of material you need is 1,100 sqft.
Can the vinyl planks be installed on top of the existing tile or hardwood floor?
Yes. You can install the vinyl flooring planks on top of the existing floor of porcelain tile, stone tile, hardwood floor and cement subsurface.
Can the vinyl planks be installed on top of carpet?
No. It is not recommended that you install vinyl planks on top of any carpet. If you do that, the installed vinyl flooring will move up and down when you walk on it due to the carpet softness. And this movement will result in damage gradually on the click-lock system of the planks.
Do I need to buy any material for underneath the vinyl during the installation?
No. All of our vinyl flooring planks come with pre-attached pad. No additional underlayment material is needed. But vinyl flooring planks from other sources may not come with this pre-attached pad. In this case, you will need to get underlayment for the installation. To get some free samples and see it for yourself, click here.
Do I need to put the material in a room for a few days before the installation?
No. You can start the installation immediately when you get the delivery. Our vinyl planks are very stable. They do not contract or expand when the temperature changes.
Glue-down or glueless installation?
When installing real wood flooring, you need to use "glue-down" method because the wood material will contract or expand when temperature changes. Gaps between wood planks are needed. To prevent the wood planks from moving around, you must use glue to keep them in position.
Our vinyl planks are dimensionally stable. When snapped together using the click-lock system, there are no gaps between planks. Also there is no gap needed where the vinyl planks meeting the wall. So, when installing vinyl planks, the

glue less floating

installation method is recommended. Due to no gaps, the floor planks will not move around when installed
Can vinyl flooring be installed in my kitchen?
Yes. Our vinyl planks are 100% waterproof and super easy to clean. You can install them in your kitchen. Here are two examples of work we've done in kitchens to show you.
Can vinyl flooring be installed in a bathroom?
Yes. Vinyl flooring is 100% waterproof. It is good for the bathroom floor. Here is an example to show you.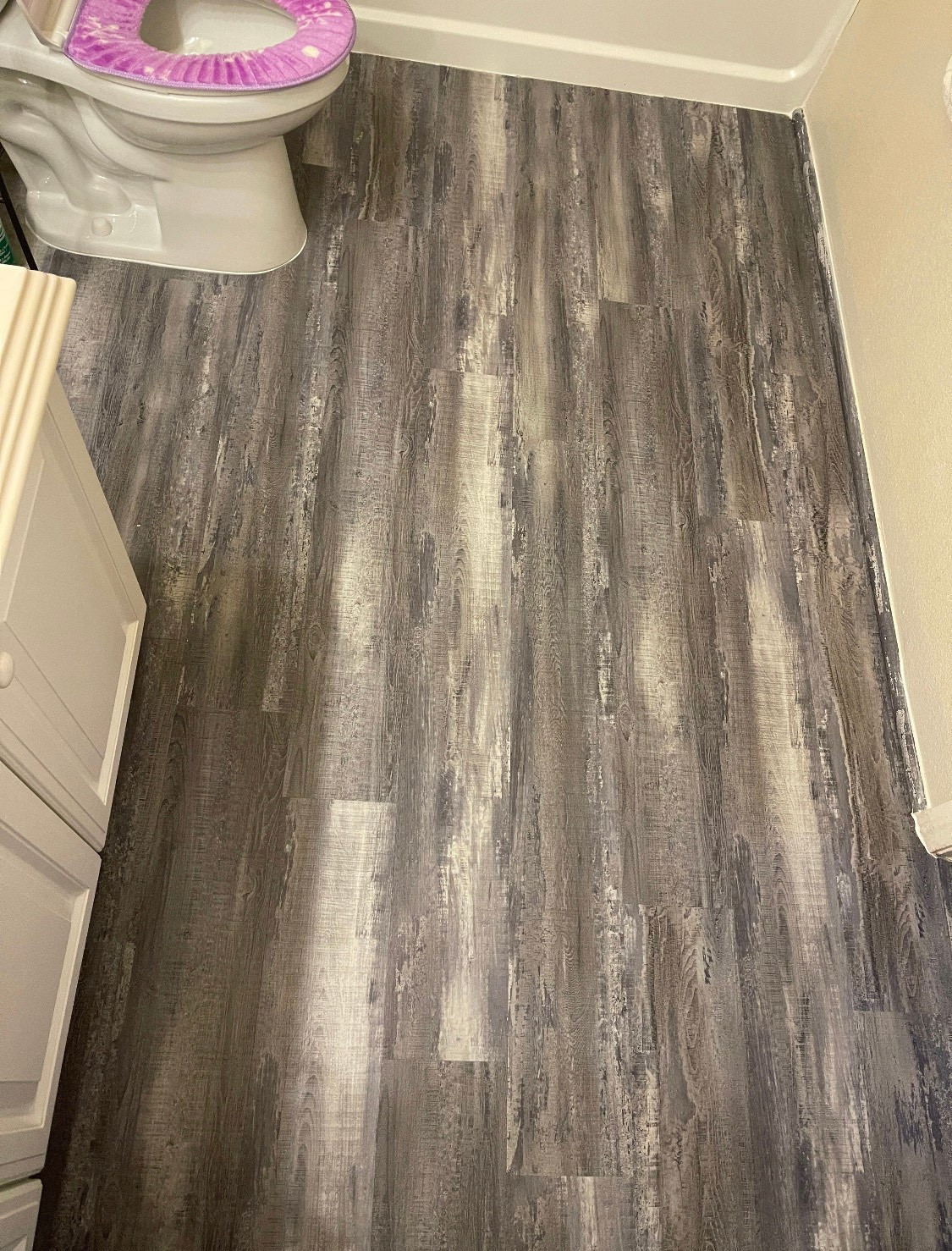 How can I find a local installer? Can I install it myself?
If financially allowed, you'd better use an experienced professional installer, especially for large projects, say, 2,000 sqft or more. You can find local installers on Craigslist, the SERVICE section - Skilled Trade.
If you have some handyman background and the needed tools, you can install yourself.
Our vinyl planks are DIY friendly and come with click-lock super-easy installation system. You can visit Youtube and search for "Vinyl Flooring Installation". There are a lot videos showing how to install vinyl flooring.
However, it's much riskier for you to do it yourself. If you want to ensure a quality, professional job to be done, you call us at 725-212-8610 and we can find a professional installer for you in your area.
Frequently Asked Questions (FAQs)